Frozen green asparagus for import
GENERAL INFORMATION
Green asparagus(AkA asparagus officinalis)is the asparagus living under the sunlight. It is the variety which we often enjoy and found in the local market. Lots of people are fond of the crunchy bite of the green asparagus. The green asparagus is especially rich in Vitamin B. Our frozen green asparagus uses the IQF (Individual quick frozen) technology which can retain the flavor and health of the green asparagus. We have many hot selling products such as frozen green asparagus cuts.
QUICK DETAILS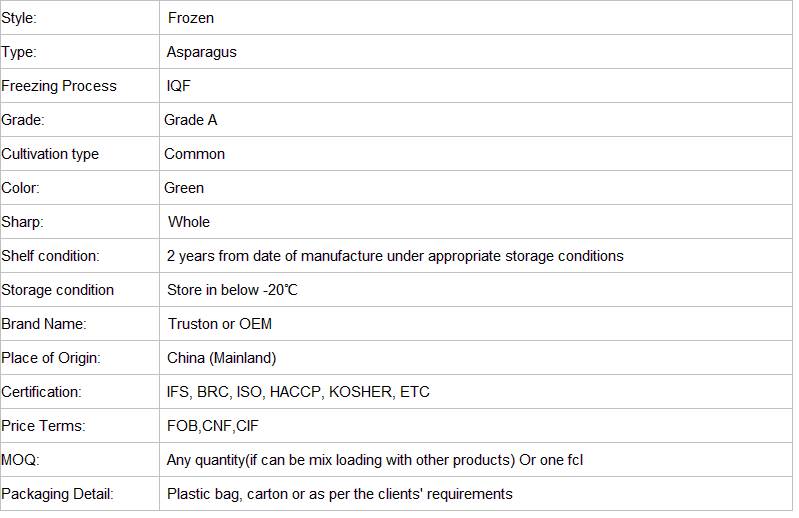 ORGANOLEPTIC CHARACTERISTICS
Texture: exquisite, with no corase or old fiber, the length and size is uniform, incised tidily and the section is straight
Taste/flavor (cooked in boiled water for 15 minutes): fresh green asparagus's special flavor and is not sour
Freeze: Freeze well and is not softened, not caking and not apparent freezing
DEFECTS
Common defects: the length is shorter than 12cm and is longer than 16.5cm <10%
Diameter of asparagus is shorter than 10mm and is longer than 16mm < 5%
Total defects: 10%
Main defect:
Blossom <1%
Tip off <1%
Change color<1%
Air-dry<1%
Oxidation <1%
Abnormality <1%
Asparagus rupture/ mechanical wounding <1%
Decapitation of Asparagus: Not allowed
Hollow heart: Not allowed
Silt: Not allowed
Extraneous matter: Not allowed
Total defects:< 5%
MICROBIOLOGICAL TEST
Total number of bacteria<100000cfu/g
Coli group<100cfu/g
Escherichia coli<10cfu/g
Staphylococcus aureus< 10cfu/g
Listeria monocytogenes: Not be found/25g
Salmonella: Not be found/ 25g
HEAVY METAL TEST
Plumbum< 0.1 mg/ kg
Cadmium< 0.1 mg/ kg
CHEMISTRY TEST:
Peroxidase: Negative
PESTICIDES RESIDUALS
For grade A product, pesticides residuals could be conform to EU legislations
LEGAL INFORMATION
The product can be made according to EU legislations.
Origin: China
LOGISTICS INFORMATION
Packaging: in corrugated closed carton
SPECIFICATIONS : Frozen Chinese Green Asparagus ( Season: Apr-May, Sep-Oct.)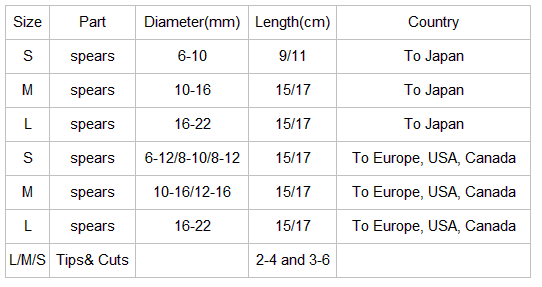 TRUSTON STRENGTH
TRUSTON-20 years focusing on production & supply of canned, frozen, fresh, FD, vegetable & fruits, accessories, noodles. YOUR BESTSUPPLIER ON AGRO FOODS
OTHER INFORMATION
1)Clean sorted from very fresh raw materials without residue, damaged or rotten ones;
2)Processed in the experienced factories;
3)Supervised by our QC team;
4)Our products such as IQF green asparagus spears have enjoyed good reputation among the clients from Europe, Japan, Southeast Asia, South Korea, Middle east, USA and Canada.
We also supply canned lychee, corn kernel, seafood, or as per the clients' requirement. For more information, please visit our shop: www.trustonfood.com
IQF fresh green asparagus from china