GENERAL INFORMATION
Blueberry is one of the most popular berries in the world. In terms of U.A. fruit consumption, the blueberries rank just second to strawberries in popularity of the berries. The blueberries are one of the highest antioxidant capacities among all fruits and vegetables. The frozen blueberry is the way to go year-round. A new research from South Dakota State University suggests that the frozen blueberries can deliver more disease-fighting antioxidants than fresh. The frozen blueberries also have less than half of the insecticides present on fresh berries. Our products such as Frozen Whole Blueberries in 6-12mm are suited for desserts, desserts and stuff.
QUICK DETAILS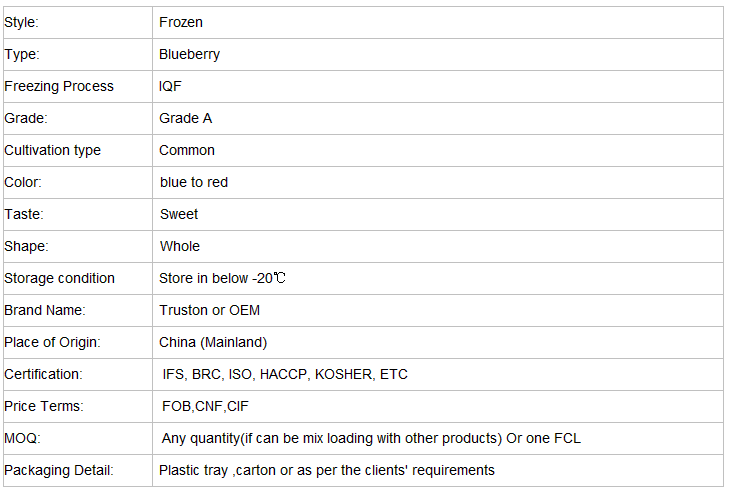 ORGANOLEPTIC CHARACTERISTICS
Color: Blue to red in uniform color
Texture: The blue strawberries are whole, individual, sound, firm and uniformly ripe, They are not rotten, not mouldy and not overripe.
Taste/flavor: The total soluble solid: 7-12%, characteristic flavor of ripe blueberry and without odour
Freeze: They are freeze well, frost, free of ice glazing, adhesion
MICROBIOLOGICAL TEST
Aerobian colony: <50000UFC/g
Coli group: <100UFC/g
Staphylococcus: <10UFC/g
DEFECTS
Color aberration: ≤8%
Overripe or immature fruits: ≤5%
Dehydrated granule: ≤5%
Blue berries which are squeezed: ≤3%
Blue berries which are caking: ≤2%
Blueberries which are bitted by insects≤2%
Foxiness: ≤2%
Scar: ≤2%
Size error: ≤8%
LOGISTICS INFORMATION
Packaging: in corrugated closed carton and were stored in below -20℃
LEGAL INFORMATION
The product can be made according to EU legislations.
Origin: China
SPECIFICATIONS: IQF Blueberries for Sale (Season: Jun-Aug)

TRUSTON STRENGTH
TRUSTON-20 years focusing on production & supply of canned, frozen, fresh, FD, vegetable & fruits, accessories, noodles. YOUR BEST SUPPLIER ON AGROFOODS
OTHER INFORMATION
1) Clean sorted from very fresh raw materials without residue, damaged or rotten ones;
2) Supervised by our QC team;
3) Processed in the experienced factories;
4) Our products such as frozen whole blueberries in 15-30mm have enjoyed good reputation among the clients from Europe, Japan, Southeast Asia, South Korea, Middle east, USA and Canada.
We also supply canned lychee, corn kernel, seafood, or as per the clients' requirement. For more information, please visit our shop: www.trustonfood.com
IQF Cultivated Blueberries in 6-12mm