New crop frozen iqf broccoli
GENERAL INFORMATION
AKA brassica oleracea italica. Broccoli is a cruciferous vegetable high in vitamin C, vitamin A and a compound called sulforaphane that may protect you against cancer. The vegetable is delicious and easy to prepare in its fresh state, but it might not be available in your supermarket at certain times of the year. Frozen broccoli is easy to work with, inexpensive and plentiful. Add frozen broccoli such as organic IQF broccoli florets from china to a stir fry or pasta dish for a delicious and nutritious meal.
QUICK DETAILS
Cultivation type:
Common, Organic
Shelf condition:
2 years from date of manufacture under appropriate storage conditions
Storage condition:
Store in below -20℃
Brand Name:
Truston or OEM
Place of Origin:
China (Mainland)
Certification:
IFS, BRC, ISO, HACCP, KOSHER, ETC
MOQ:
Any quantity(if can be mix loading with other products) Or one fcl
Packaging Detail: Plastic tray ,carton or as per the clients' requirements
ORGANOLEPTIC CHARACTERISTICS
Color: Green, in uniform color
Texture: Regular shape, in uniform size, neat.
Taste/flavor (cooked in boiled water for15 minutes): Broccoli's special flavor
Freeze: freeze well and is not softened, not caking and not apparent freezing
DEFECTS
Main defect:
Abnormal shape: <2%
Abnormal color: <1%
Superficial injury: <2%
Rust spots: <1%
Air drying: <1%
Rupture: <1%
Foreign matter: None
Rot: None
MICROBIOLOGICAL TEST
Total number of bacteria: <100000cfu/g
Coli group: <100cfu/g
Escherichia coli: <10cfu/g
Staphylococcus aureus: < 10cfu/g
Listeria monocytogenes: Not detected / 25g
Salmonella: Not detected/ 25g
HEAVY METAL TEST
Plumbum: < 0.1 mg/kg
Cadmium: < 0.05 mg/ kg
CHEMISTRY TEST:
Peroxidase: Negative
PESTICIDES RESIDUALS
For grade A product, pesticides residuals could be conform to EU legislations (392/2005).
LEGAL INFORMATION
The product can be made according to EU legislations.
Origin: China
LOGISTICS INFORMATION
Packaging: in corrugated closed carton and were stored in below -20℃
SPECIFICATIONS: IQF Frozen Chinese broccoli with best quality (Season: Nov-Feb.)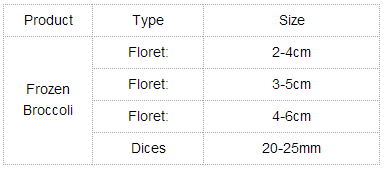 TRUSTON STRENGTH
TRUSTON-20 years focusing on production& supply of canned, frozen, fresh, FD, vegetable & fruits, accessories, noodles. YOUR BEST SUPPLIER ON AGRO FOODS
OTHER INFORMATION
1)Clean sorted from very fresh raw materials without residue, damaged or rotten ones;
2)Processed in the experienced factories;
3)Supervised by our QC team;
4)Our products such as IQF frozen broccoli dices in 20-25mm have enjoyed good reputation among the clients from Europe, Japan, Southeast Asia, South Korea, Middle east, USA and Canada.
We also supply canned lychee, corn kernel, seafood, or as per the clients' requirement. For more information, please visit our shop: www.trustonfood.com
Frozen broccoli floretsin 3-5cm from china