IQF Chinese asparagus bean
GENERAL INFORMATION
Chinese long bean is also called asparagus bean or yard long bean. It is a subtropical/ tropical plant and is widely grown in south eastern Asia, Thailand and Southern China. It is with a long pod, raging from 14 to 30 inches. The Chinese long bean has wavy skin and is rough with kidney-shape seeds inside. The Chinese long bean is delicious and has nutty flavor. It helps help maintain blood vessel elasticity, build immunity against infections and offer some protection from cancers. It is suited with steaming and stir-frying. The frozen Chinese long bean is stored in below -18 and can be stored for a long time and retain its taste. It is a good choice for import.
QUICK DETAILS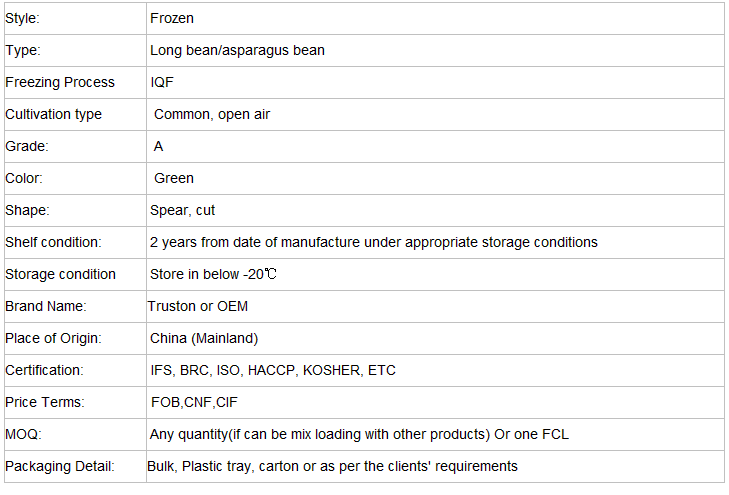 ORGANOLEPTIC CHARACTERISTICS
Color: Intensive green, in uniform color
Texture: tender and practically uniform in texture and tenderness, free of obvious fiber when chewing
Taste/flavor (cooked in boiled water for 15 minutes): Asparagus beans' typical flavor and taste.
Freeze: Freeze well and is not softened, there is not apparent caking outside the pod.
DEFECTS
Balls and tails:< 0.5%
Deformed:< 2%
Discolored (Square>5mm ²):< 1%
Dehydration (Length>10mm ²):< 1%
Rusted Spots(Square>2mm ²):< 2%
Split:<2 %
Wormhole:< 0.5%
Pod Bulge:None
Rotten:None
Foreign Matters: None
Total Defects <5%
HEAVY METAL TEST
Pb: < 0.1 mg/ kg
Cd: < 0.05 mg/ kg
CHEMISTRY INDEX:
Peroxidase: Negative
MICROBIOLOGICAL TEST
Total number of bacteria: <29000CFU/g
Coli group:<100CFU/g
E.Coli:<10CFU/g
S aureus:< 10CFU/g
Salmonella: Negative / 25g
Listeria monocytogenes: Negative /25g
LEGAL INFORMATION
The product can be made according to EU legislations.
Origin: China
LOGISTICS INFORMATION
Packaging: in corrugated closed carton and were stored in below -20℃
SPECIFICATIONS: Hot selling IQF asparagus bean (Season: May- Jun, Aug-Sep)

TRUSTON STRENGTH
TRUSTON-20 years focusing on production & supply of canned, frozen, fresh, FD, vegetable & fruits, accessories, noodles. YOUR BEST SUPPLIER ONAGRO FOODS
OTHER INFORMATION
1) Clean sorted from very fresh raw materials without residue, damaged or rotten ones;
2) Supervised by our QC team;
3) Processed in the experienced factories;
4) Our products such as IQF asparagus bean spears in 10cm have enjoyed good reputation among the clients from Europe, Japan, Southeast Asia, South Korea, Middle east, USA and Canada.
We also supply canned lychee, corn kernel, seafood, or as per the clients' requirement. For more information, please visit our shop: www.trustonfood.com
IQF asparagus bean distributor