Frozen edamame for import
GENERAL INFORMATION
Green soybeans (we also called it edamames) are soft and edible because they are the preparation of the immature soybeans. And they are not dry and hard as the mature soybeans so that lots of people are fond of their taste. Eating edamame can help us decrease the risk of diabetes and obesity, heart disease and promote a healthy hair and complexion, increased energy. The edamame can be boiled or steamed in their pods and then shelled to be a delicious vegetable side dish when dried. The edamame can also be enjoyed fresh, canned, or frozen like the IQF edamame in pod. Frozen green soybeans can be stored for a long time and can also retain the taste of the green soybeans.
QUICK DETAILS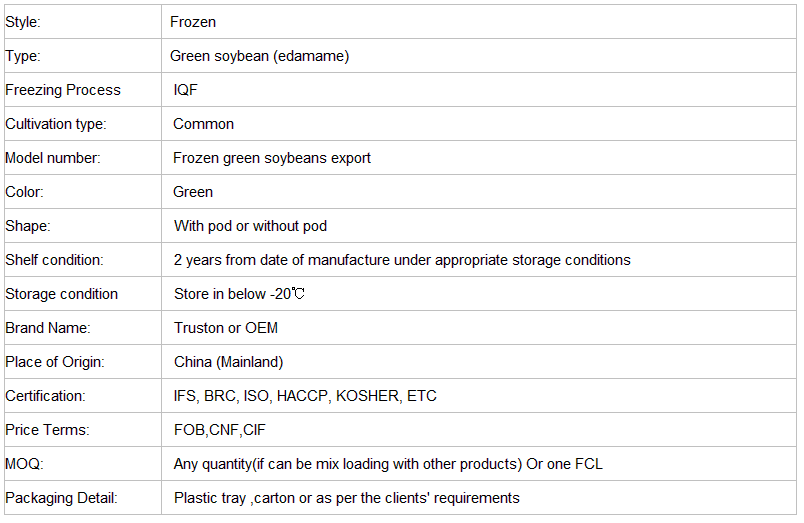 ORGANOLEPTIC CHARACTERISTICS
Color: Green, in uniform color
Texture: In regular shape and uniform size.
Taste/flavor (cooked in boiled water for 15 minutes): green soybean's special flavor
Freeze: freeze well and is not softened, not caking and not apparent freezing
DEFECTS
Discolor: ≤3%
Damage + Broken: ≤5%
Rotten: None
Not mature (thickness < 6mm): None
Scratches > ½area of surfaces: ≤3%
For The soybeans without pods:
The percent of perfect kernels: ≥95%
The percent of damaged kernel:≤1%,the percent of heat-damaged kernel:≤ 0.2%
MICROBIOLOGICAL TEST
Coliforms: <100 CFU/g
E.Coli: Not detected
S.aureus: < 10CFU/g
Yeast & Moulds: < 2.000CFU/g
Salmonella: Negative / 25g
Listeria monocytogenes: Negative / 25g
HEAVY METAL TEST
Pb: < 0.1 mg/ kg
Cd: < 0.05 mg/ kg
LOGISTICS INFORMATION
Packaging: in corrugated closed carton and were stored in below -20℃
LEGAL INFORMATION
The product can be made according to EU legislations.
Origin: China
SPECIFICATIONS: IQF edamame with pods or without pods (Season: May- Jun, Aug-Sep)
With pod: length: 5-8cm, 2-3 kernels
Without pod: Spring/ autumn150-165/170-185pcs/500g
TRUSTON STRENGTH
TRUSTON-20 years focusing on production & supply of canned, frozen, fresh, FD, vegetable & fruits, accessories, noodles. YOUR BEST SUPPLIER ON AGRO FOODS
OTHER INFORMATION
1) Clean sorted from very fresh raw materials without residue, damaged or rotten ones;
2) Supervised by our QC team;
3) Processed in the experienced factories;
4) Our products such as Frozen edamame in shells have enjoyed good reputation among the clients from Europe, Japan, Southeast Asia, South Korea, Middle east, USA and Canada.
We also supply canned lychee, corn kernel, seafood, or as per the clients' requirement. For more information, please visit our shop: www.trustonfood.com