Canned loquat in syrup for import
GENERAL INFORMATION
The flesh of the loquat has one to five shiny brown inedible seeds within and is white or light or a medium orange color. The loquat contains high amount of sugar, pectin and acid. The canned loquat can nourish the skin and can relieve the severe cough as well. Our canned loquat can be used for salads or be used to make jellies, jam and syrups. It is good to be served as a dessert.- canned loquat broken in light syrup in 3000g
QUICK DETAILS
Style: Canned
Grade: Choice quality
Type: Loquat
Preservation Process: Syrup, juice, water
Taste: Sweet and Juicy
Color: Golden yellow
Can lid: Easy open tin/ normal tin
Shape: Whole, Half
Brand Name: Truston or OEM
Place of Origin: China (Mainland)
Price Terms: FOB,CNF,CIF
Certification: IFS, BRC, ISO, HACCP, KOSHER, ETC
MOQ: Any quantity(if can be mix loading with other products)Or one FCL
Packaging Detail: Can, jar or as per the clients' requirements
Storage Temperature: In Normal Temperature
Shelf life : Production date + 3 years
PHYSICAL AND CHEMICALCHARACTERISTICS
Solid content: 17%-20% or 14%-17%.
Brix: 14-17%
ORGANOLEPTIC CHARACTERISTICS
Color: The flesh is orange, in uniform color. It is also with clear liquid.
Consistency/Texture: The flesh is moderate in softness and hardness. The fruit shape is intact and is in uniform size.
Taste/flavor: Sweet and juicy and it is without off-flavor..
MICROBIOLOGICALTEST
The test should comply with commercial sterilization requirement of preserved food.
STABILITY/ INCUBATION TEST
Stability: Three samples must be analyzed:
Sample 1: 37℃for 10 days
Sample 2: 55℃for 7 days
Sample 3: control
The difference in PH is less than 0.3.
LEGAL INFORMATION
The product can be made according to EU legislations.
The product is GMO - free and is not radiated.
Origin: China
LOGISTICSINFORMATION
Packaging: in corrugated closed carton ,
SPECIFICATIONS : Canned loquat in syrup from China (Production Season: all year around)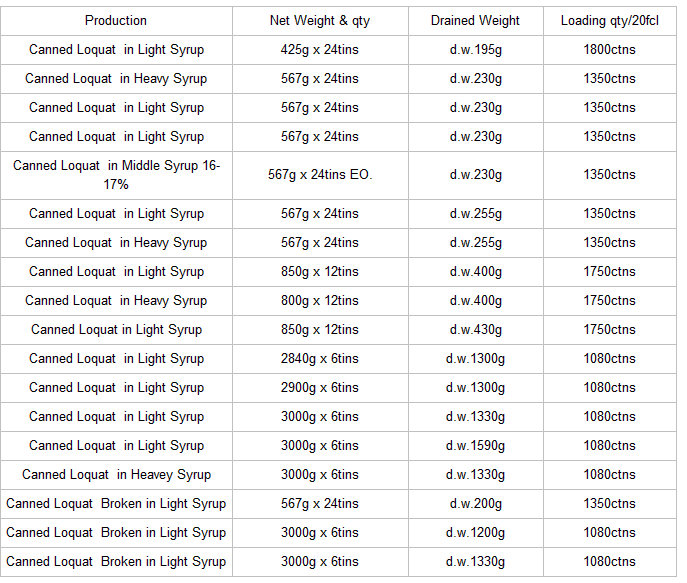 TRUSTON STRENGTH
TRUSTON-20 years focusing on production& supply of canned, frozen, fresh, FD, vegetable& fruits, accessories, noodles. YOUR BEST SUPPLIER ON AGRO FOODS
OTHER INFORMATION
1) Clean sorted from very fresh raw materials without residue, damaged or rotten ones;
2) Processed in the experienced factories;
3) Supervised by our QC team;
4)Our products such as Canned loquat in syrup in light syrup have enjoyed good reputation among the clients from Europe, Japan, Southeast Asia, South Korea,Middle east, USA and Canada.
We also supply canned lychee, corn kernel, seafood, or as per the clients' requirement. For more information, please visit our shop: www.trustonfood.com
Canned loquat broken in heavy syrup in 567g