Chinese Pickled Gherkins
GENERAL INFORMATION
--You may not realize that sweet canned pickled gherkin have health benefits, but adding them to your diet can help you increase your intake of several nutrients. However, it is important to eat them in moderation because they are high in sodium, with 160mg per large pickle. A gherkin pickle is prepared using a specific type of cucumber and is made with vinegar, sugar and spices.
QUICK DETAILS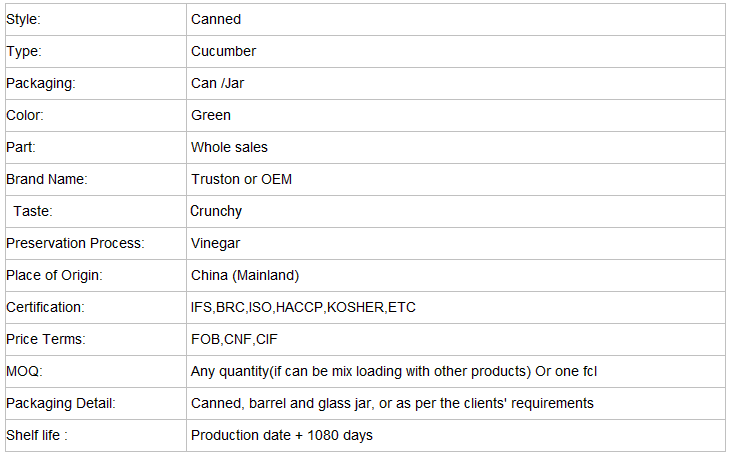 INGREDIENT:
Gherkins: Fresh harvested pickling gherkins, free of bitter taste, rotten parts, spots, curved or ruptured ones, non GMO, residues conform with EC-standards.
Brine preparation:
Wine vinegar (10%): 220.0kg
Sugar: 155.0kg
Salt: 40.0kg
Flavored (227930): 2.0kg
Total content: 1000 liter
Flavoring: Soaked flavoring mixture
Onions:50%
Yellow mustard seed:25%
Black pepper seeds:25%
Solid flavoring is soaked in vinegar (10%) for more than 24 hours
ORGANOLEPTIC CHARACTERISTICS
Taste/flavor: Characteristic flavor of gherkin, sweet& sour,.
Texture: Crisp and firm
Aspect: Green
PHYSICAL AND CHEMICAL CHARACTERISTICS
PH: 3.600 -4.000
Vacuum: 200.000hPa-400.000hPa
Acidity (in glacial acetic acid): 0.900%-1.100%
Solid flavoring: 8.000-10.000g
Ullage: 13.000-15.000mm
Safety value: 3.000-5.000mm
Total refractive index: 9.900-10.900Brix
refractive index(salt free): 7.800-8.800Brix
conduction1+4: 29.000-33.000mS/cm
NACL/salt: 1.650-1.950%
NUTRITIONAL VALUES PER 100G
Protein: 0.4g
Carbohydrates: 7.4 g
Fat : 0.2 g
MICROBIOLOGICAL TEST
The test complies with commercial sterilization requirement of preserved food. And there is no bacterium being found during the test.
LEGAL INFORMATION
The product can be made according to EU legislations.
The product is GMO - free and is not radiated.
Allergens: Mustard seed
Origin: China
LOGISTICS INFORMATION
Packaging: in corrugated closed carton,
Cartons/ 20'FCL: look at the SPECIFICATIONS
SPECIFICATIONS: Canned pickled gherkin from China(Production season: May-Sep)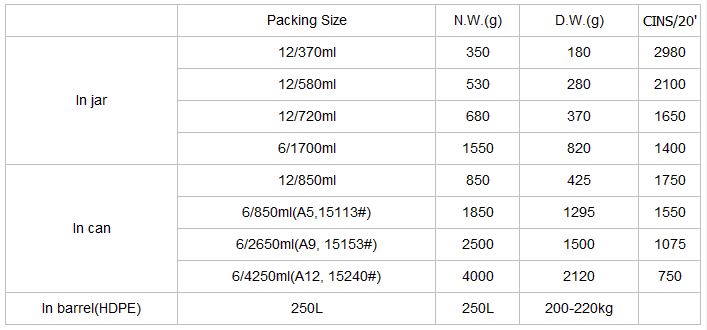 TRUSTON STRENGTH
TRUSTON-20 years focusing on production & supply of canned, frozen, fresh, FD, vegetable & fruits, accessories, noodles. YOUR BEST SUPPLIER ONAGRO FOODS
OTHER INFORMATION
1)Clean sorted from very fresh raw materials without residue, damaged or rotten ones;
2)Processed in the experienced factories;
3)Supervised by our QC team;
4)Our products such as sweet and sour canned pickled gherkin have enjoyed good reputation among the clients from Europe, Japan, Southeast Asia, South Korea, Middle east, USA and Canada.
We also supply canned lychee, corn kernel, seafood, or as per the clients' requirement. For more information, please visit our shop:www.trustonfood.com
Fresh canned pickled baby cucumber