Food grade plastic tray from China
QUICK DETAILS
Industrial Use:
For food, IQF food is also OK.
Color:
Clear or customized
Brand Name:
Truston or OEM
Place of Origin:
China (Mainland)
MOQ:
Any quantity(if can be mix loading with other products) Or 1 fcl
Packaging Detail:
Cartons or as per the clients' requirements.
GENERALINFORMATION
Plastic trays are great for food storage and take-out. As a leading manufacturer, we can provide you with different shapes and colors according to your designs and order such as food grade PE plastic trays 13.4cm*12cm*3.1cm. And our food grade plastic trays can be used for frozen food or microwaving food and so on.
LEGALINFORMATION
The product can be made according to EU legislations.
We certify that material are all inline with national health inspection requirements, no use of Azodicarbonamide and safe contact with food products.
Origin: China
LOGISTICSINFORMATION
Packaging: in corrugated closed carton
SPECIFICATIONS: Chinese food grade plastic tray (all year around)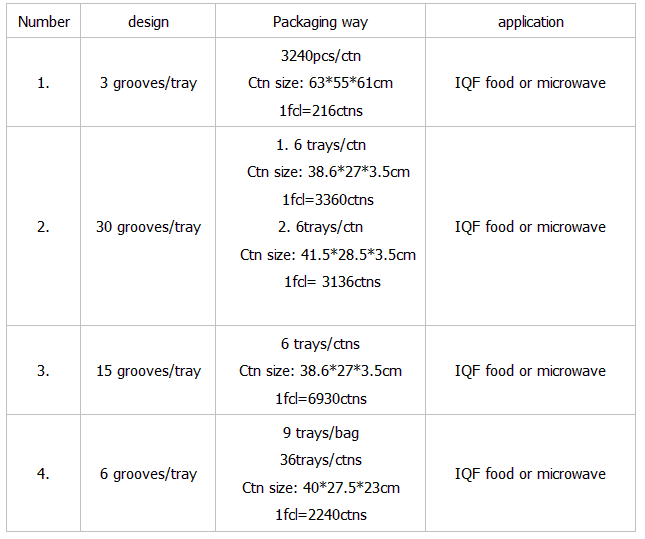 TRUSTON STRENGTH
TRUSTON-20years focusing on production & supply of canned, frozen, fresh, FD, vegetable & fruits, accessories, noodles. YOUR BEST SUPPLIER ON AGRO FOODS
OTHER INFORMATION
1) Clean sorted from very fresh raw materials without residue, damaged or rotten ones;
2) Processed in the experienced factories;
3) Supervised by our QC team;
4)Our products such as food grade PS plastic tray 38.5cm*26.9cm*3.6cm have enjoyed good reputation among the clients from Europe, Japan, Southeast Asia, South Korea, Middle east, USA and Canada.
We also supply canned lychee, corn kernel, seafood, or as per the clients' requirement. For more information, please visit our shop: www.trustonfood.com