Peeled White Asparagus
Canned white asparagus is a high-grade vegetable, fresh asparagus is used as raw material and contained many nutrient element. Through high-temperature sterilization canned in glass bottles or cans packing. Rich in a variety of body essential amine acids, vegetables protein, mineral and trace elements. It also can enhance the body's immune system. The asparagus also has modern medical certificate as well as anti-cancer effect.
QUICK DETAILS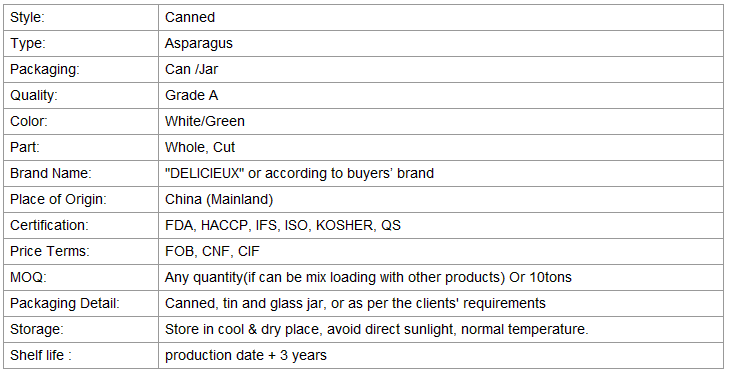 GENERAL INFORMATION
The canned asparagus are made of harvested fresh asparagus. After harvesting, the asparagus are selected,cleaned,peeled,blanched, cooled, washed, and inspected visually and weighed, then filled into jars manually. After adding brine soup and sealing, tins are sterilized at 250°F/121°C.
ORGANOLEPTIC CHARACTERISTICS
Taste/flavor: characteristic and rich flavor of canned made of fresh asparagus.
Consistency/Texture: natural and moderate
Aspect: asparagus with white color, covered with clear liquid.
PHYSICAL AND CHEMICAL CHARACTERISTICS
PH : 5.0 -5.6
Salt : 1%±0.1
Vacuum ≥ 30 cm Hg
Brix : 2.5-4
STABILITY/ INCUBATION TEST
Stability:Three samples must be analyzed:
Sample 1: 37℃ for 10 days
Sample 2: 55℃ for 7 days
Sample 3: control
The difference in PH is less than 0.3.
NUTRITIONAL VALUES PER 100G
Energy: 51 KJ/12kcal
Protein: 0.71 g
Carbohydrates: 2.3 g
of which sugars: 2.3 g
Fat: 0.0 g
Dietary fibers: 0.5 g
Sodium: 0.29 g
MICROBIOLOGICAL TEST
The test should comply with commercial sterilization
requirement of preserved food.
LEGAL INFORMATION
The product can be made according to EU legislations.
The product is GMO - free and is not radiated.
Absence of any allergens.
Origin: China
LOGISTICS INFORMATION
Packaging: in corrugated closed carton, each contains 12 jars
Cartons/ 20'FCL: 2000 cartons
Loading: in bulk
SPECIFICATIONS : Truston white asparagus(spears, tip, tips&cuts)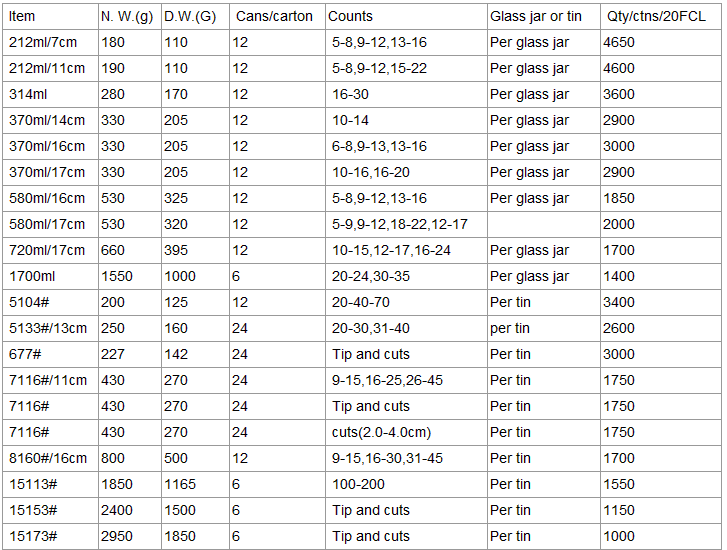 TRUSTON STRENGTH
TRUSTON-20 years focusing on production & supply of canned, frozen, fresh, FD, vegetable & fruits, accessories, noodles. YOUR BEST SUPPLIER ON AGRO FOODS
OTHER INFORMATION
1.Clean sorted from very fresh raw materials without residue, damaged or rotten ones;

2.Processed in the experienced factories;

3.Supervised by our QC team;

4.Our products such as truston canned white asparagus have enjoyed good reputation among the clients from Europe, Japan, Southeast Asia, South Korea, Middle east, USA and Canada.
We also supply canned lychee , corn kernel , seafood , or as per the clients' requirement. For more information ,please visit our shop: www.trustonfood.com
Chinese White Asparagus In Jar

Truston Fresh White Asparagus Jar:
About our products:Our truston peeled white asparagus jar is clean sorted from very fresh raw materials without residue,damaged or rotten ones.Canned asparagus is a high-grade vegetable.The tender stem of asparagus has high nutrition and low fat, and contains different kinds of vitamins and amino acids.its amount of vitamin A, vitamin B, and vitamin C are higher than tomatoes and cabbages.enjoy the delicious taste of Great Value Asparagus Spears with your dinner. This is a naturally gluten-free food that contains no artificial flavors or colors. The asparagus is good for sleep and stomach as well because of the its fat-free, low sodium,low calorie,low carb and sulfite free. It also has good effect on preventing and curing cancer and heart disease.It's regarded healthy food and anticancer food by nutiotionsts and vegrtarian experts. This delicious truston organic white asparagus jar will add color and flavor to your dinner and you can make a tasty side dish for your next meal. Truston food company provides you canned white asparagus in range of center cuts, tips&cuts and whole spears with highest quality and competitive price.
Advantage of product:
1.Our team has advanced technology, strict QC,technical expertise and our product contains the asparagus with high temperature sterliazation.
2.The ingredient of our truston selected white asparagus jar is fresh asparagus which is in latest season and natural new crop.
3.We preserve the simple goodness nature intended and pay attention to persist in processing-utmost quality.
4..Our truston white asparagus china in jar is hand selected, hand cut and hand-pack.
5.Our asparagus which is one of natural gluten-free food is firm to the bite and touch
6.Our white asparagus is with dilicious esquisite tips and sound.
7.Our asparagus is picked at the peak of perfection.