Canned Lychee in Syrup for Import
GENERAL INFORMATION
Our canned lychees are made from new crop fresh lychees, The delicious and juicy lychees are not only in great taste but are with a wealth of health benefits as well. Lychees are excellent source of vitamin C and B-complex vitamins, which can help people resist against infectious agents and help the body metabolize carbohydrates, protein and fats. The syrup of the Canned Lichee in Syrup makes the lychee more delicious and balance the level of your blood sugar.
QUICK DETAILS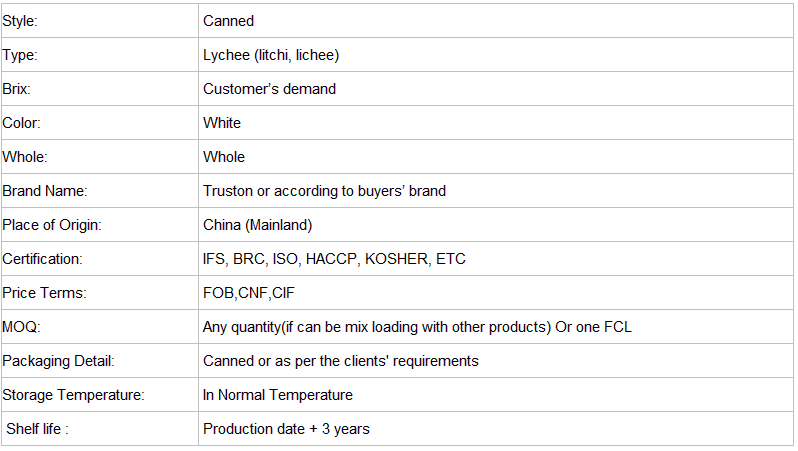 PHYSICAL AND CHEMICALCHARACTERISTICS
PH: 3.6 - 4.1
Brix: 14 - 16.99%
Vacuum: 0.010 - 0.040mpa
ORGANOLEPTIC CHARACTERISTICS
Taste/flavor: Sweet
Consistency/Texture: Natural and moderate
Aspect: Uniform classification/units, covered with clear liquid.
NUTRITIONAL VALUES per 100 g:
Energy: 295kJ/70kcal
Protein: 0.9g
Carbohydrates : 17g
of which sugars : 15g
Fat : 0.2g
STABILITY/ INCUBATION TEST
Stability: Three samples must be analyzed:
Sample 1: 37℃for 10 days
Sample 2: 55℃for 7 days
Sample 3: control
The difference in PH is less than 0.3.
MICROBIOLOGICAL TEST
The test should comply with commercial sterilization requirement of preserved food.
LEGAL INFORMATION
The product can be made according to EU legislations.
The product is GMO - free and is not radiated.
Absence of any allergens.
Origin: China
LOGISTICS INFORMATION
Packaging: in corrugated closed, carton each contains 24 tins
Cartons/ 20'FCL: 1350 cartons
SPECIFICATIONS : Canned lichee from china(Production Season: Jun-Jul)
In can: 1. 24*425g/ carton 2. 24*567g/carton
TRUSTON STRENGTH
TRUSTON-20 years focusing on production & supply of canned, frozen, fresh, FD, vegetable & fruits, accessories, noodles. YOUR BEST SUPPLIER ON AGRO FOODS
OTHER INFORMATION
1) Clean sorted from very fresh raw materials without residue, damaged or rotten ones;
2) Supervised by our QC team;
3) Processed in the experienced factories;
4)Our products such as canned lichee in light syrup have enjoyed good reputation among the clients from Europe, Japan, Southeast Asia, South Korea, Middle east, USA and Canada.
We also supply corn kernel, seafood, or as per the clients' requirement. For more information, please visit our shop: www.trustonfood.com