GENERAL INFORMATION
Mackerel (disambiguation) is one of the important food fishes in the world. The mackerels are usually found in tropical and temperate seas. They often live along the coast or offshore in the oceanic environment. They are the great source of omega-3 and protein. The canned mackerel is easy convenient and is in moderately sweet flavor and firm texture. As a leading canned mackerel manufacturer, we can provide you with different specifications of canned mackerel.
QUICK DETAILS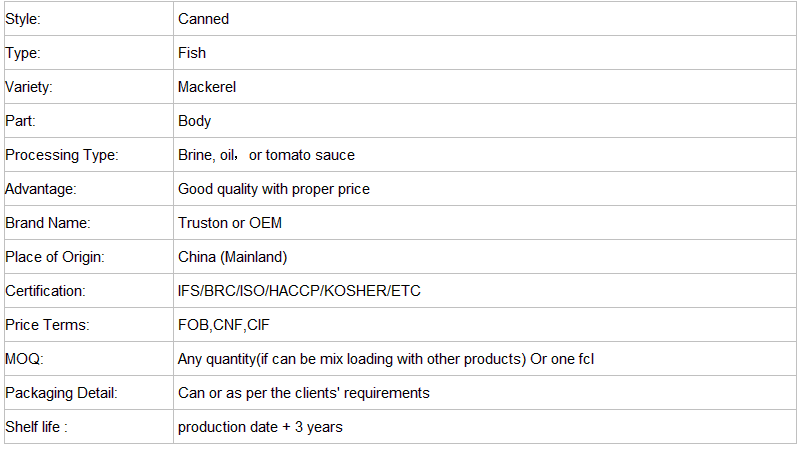 ORGANOLEPTIC CHARACTERISTICS
Taste/flavor: Characteristic flavor of mackerel, free of off-flavor
Color: The color of the fish skin is bright; the color of the tomato sauce is orange or red.
Texture/Appearance:
1 .Firm texture
2. Fish pieces are moderately hard and soft and match different parts
3. Fish pieces are in uniform size and the amount of the flake or grated fish is not more than 5%.
HEAVY METAL TEST:
Pb≤ 1.0 mg/kg
Cd≤ 0.2 mg/kg
As≤ 0.1 mg/kg
Cr≤ 2.0 mg/kg
PHYSICAL AND CHEMICAL CHARACTERISTICS
1. Solid content (%): ≥ 85%(in oil), ≥ 70%( in brine), ≥65%( in tomato sauce)
2. NaCl content (%): ≤ 3.5
3. Methyl Mercury ≤ 0.5 mg/kg
4. Benzoapyrene ≤ 5.0ug/kg
5. Polychlorinated biphenyls ≤ 0.5mg/kg
MICROBIOLOGICAL TEST
The test should comply with commercial sterilization requirement of preserved food.
NUTRITIONAL VALUES in 3 ounces of boneless canned mackerel
Calories: 133kcal
Total Fat: 5.36g
Saturated Fat: 1.579g
Polyunsaturated Fat: 1.104g
Monounsaturated Fat: 1.892g
Cholesterol: 67mg
Sodium: 322mg
Potassium: 165mg
Protein: 19.72g
LEGAL INFORMATION
The product can be made according to EU legislations.
Origin: China
LOGISTICS INFORMATION
Packaging: in corrugated closed carton
Cartons/ 20'FCL: You can see at the following part (SPECIFICATIONS)
SPECIFICATIONS: Canned Wholesale Chinese Mackerel (Production Season: all year round)

TRUSTON STRENGTH
TRUSTON-20 years focusing on production & supply of canned, frozen, fresh, FD, vegetable & fruits, accessories, noodles. YOUR BEST SUPPLIER ON AGRO FOODS
OTHER INFORMATION
1) Clean sorted from very fresh raw materials without residue, damaged or rotten ones;
2) Processed in the experienced factories;
3) Supervised by our QC team;
4) Our products like canned mackerel in tomato sauce in 155g have enjoyed good reputation among the clients from Europe, Japan, Southeast Asia, South Korea, Middle east, USA and Canada.
We also supply canned lychee, corn kernel, seafood, or as per the clients' requirement. For more information, please visit our shop: www.trustonfood.com
Canned Mackerel in Water in 425g