Canned tomato paste for import
QUICK DETAILS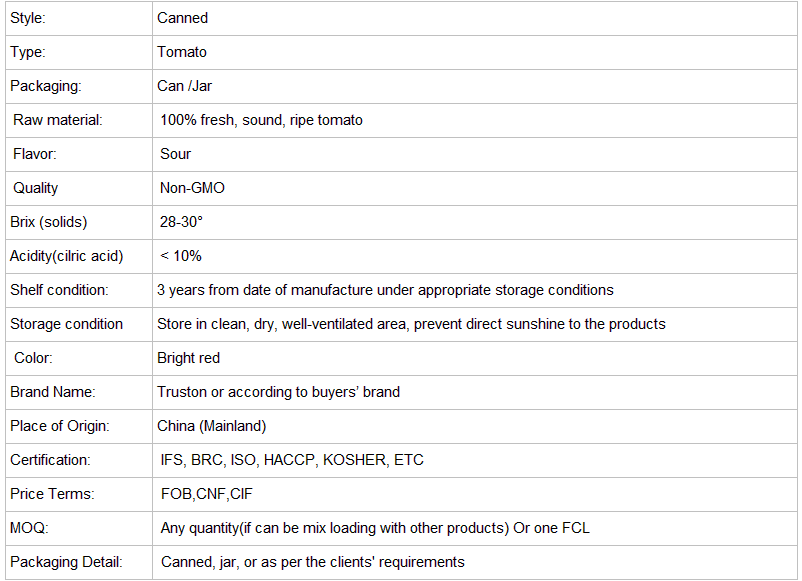 GENERAL INFORMATION
Our tomato paste perfectly meets all your culinary needs. The products are gluten free and suit the vegan to have. And the tomatoes are growing and processed in the Xinjiang, China. Our canned tomato paste has a good flavor, odor and is in good color. It can stimulate the tastebud like sugar and salt. You can use the tomato paste as the ingredient of some juices and ketchup. The tomato paste can also be eaten with beef stock and chill. You can try our hot selling products such as double concentrated canned tomato paste.
ORGANOLEPTIC CHARACTERISTICS
Taste/flavor: Sour
PHYSICAL ANDCHEMICAL CHARACTERISTICS
PH : 3.8-4.2
Mineral impurities< 0.1%
Total sugar≥ 42%
Volatile acidity< 0.4%
The mould count( HMC)< 35%
Brix: 28-30°
MICROBIOLOGICAL TEST
Clostridium perfringens: 1g
Salmonella: 25g
Listeria monocytogénes: 25g
If presence, quantity: 1g
Vibrio cholerae: 25g
Vibrio parahaemolyticus: 25g
E.coli: 1g
Mesophile 30°C: 1g
Staphylococcus à coagulase positive: 1g
(Staphylococus Aureus)
Bacilus cereus:1g
Yeast:1g
Mould:1g
STABILITY/INCUBATION TEST
Stability : 2 samples of the same batch must be analyzed:
Sample 1 : 37° C for ten days.
Sample 2 : Control
If the tins do not give off any gases and the difference in pH is less than 0.3 points, the sample is declared stable
NUTRITIONALVALUES PER 100G/100ml
Energy: 434 Kj/103kcal
Protein: 3.7g
Of which sugar: 20g
Total Fat (g) : 0.5g
Of which saturated fats (g): 0g
Dietary fibers: 1.6g
Sodium: 0.23g
Salt: 0.58g
LEGAL INFORMATION
The product can be made according to EU legislations.
The product is GMO - free and is with no ionized ingredients.
Origin: China
LOGISTICS INFORMATION
Packaging: in corrugated closed carton
Cartons/ 20'FCL: You can see at the following part (SPECIFICATIONS)
SPECIFICATIONS : Tomato Paste from China( all year around)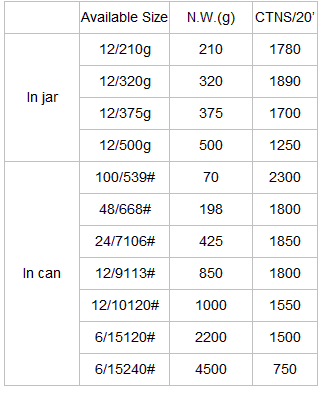 TRUSTON STRENGTH
TRUSTON-20 years focusing on production & supply of canned, frozen, fresh, FD, vegetable & fruits, accessories, noodles. YOUR BEST SUPPLIER ON AGRO FOODS
OTHER INFORMATION
1)Clean sorted from very fresh raw materials without residue, damaged or rotten ones;
2)Processed in the experienced factories;
3)Supervised by our QC team;
4)Our products such as tomato paste in can have enjoyed good reputation among the clients from Europe, Japan, Southeast Asia, South Korea, Middle east, USA and Canada.
We also supply canned lychee, corn kernel, seafood, or as per the clients' requirement. For more information, please visit our shop:www.trustonfood.com
Canned Tomato Paste Distributor