Chinese Canned Tomato Paste
GENERAL INFORMATION
Tomato Paste is sauce concentrated products of fresh tomato. The color is scarlet and the taste is typical from fresh tomato. It is commonly used and consumed in daily life. Tomato Paste such as organic 28-30% brix tomato paste is made of ripe tomato, processing from crushing, pulping, peeling and seeding, then packed in drums after concentrating and sterilizing.
QUICK DETAILS
Raw material:
100% fresh, sound, ripe tomato
Acidity(cilric acid)
< 10%
Shelf condition:
3 years from date of manufacture under appropriate storage conditions
Storage condition:
Store in clean, dry, well-ventilated area, prevent direct sunshine to the products
Brand Name: "

DELICIEUX" or according to buyers' brand
Place of Origin:
China (Mainland)
Certification:
FDA, HACCP, IFS, ISO, KOSHER, QS
MOQ:
Any quantity(if can be mix loading with other products) Or one FCL
Packaging Detail:
Canned, tin and jar, or as per the clients' requirements
ORGANOLEPTIC CHARACTERISTICS
Taste/flavour: sour
PHYSICAL AND CHEMICAL CHARACTERISTICS
PH : 3.8-4.2
Mineral impurities : < 0.1%
Total sugar:≥ 42%
Volatile acidity : < 0.4%
The mould count( HMC): < 35%
Brix: 28-30°
MICROBIOLOGICAL TEST
Clostridium perfringens:1g
Salmonella: 25g
Listeria monocytogénes: 25g
If presence, quantity: 1g
Vibrio cholerae: 25g
Vibrio parahaemolyticus: 25g
E.coli: 1g
Mesophile 30°C: 1g
Staphylococcus à coagulase positive:1g
(Staphylococus Aureus)
Bacilus cereus:1g
Yeast:1g
Mould:1g
STABILITY/ INCUBATION TEST
Stability : 2 samples of the same batch must be analyzed:
Sample 1 : 37° C for ten days.
Sample 2 : Control
If the tins do not give off any gases and the difference in pH is less than 0.3 points, the sample is declared stable
NUTRITIONAL VALUES PER 100G/100ml
Energy:434 Kj/ 103kcal
Protein:3.7g
Of which sugar:20g
Total Fat (g):0.5g
Of which saturated fats (g): 0g
Dietary fibers:1.6g
Sodium:0.23g
Salt: 0.58g
LEGAL INFORMATION
The product is GMO - free and is with no ionized ingredients.
Origin: China
LOGISTICS INFORMATION
Packaging: in corrugated closed carton
Cartons/ 20'FCL: You can see at the following part (SPECIFICATIONS)
SPECIFICATIONS : natural tomato paste ( all year around)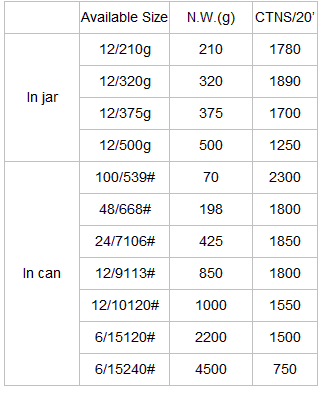 TRUSTON STRENGTH
TRUSTON-20 years focusing on production & supply of canned, frozen, fresh, FD, vegetable & fruits, accessories, noodles. YOUR BEST SUPPLIER ON AGRO FOODS
OTHER INFORMATION
1)Clean sorted from very fresh raw materials without residue,damaged or rotten ones;
2)Processed in the experienced factories;
3)Supervised by our QC team;
4)Our products such as high quality tomato paste from China have enjoyed good reputation among the clients from Europe, Japan, Southeast Asia, South Korea, Middle east, USA and Canada.
We also supply canned lychee, corn kernel, seafood, or as per the clients' requirement. For more information, please visit our shop: www.trustonfood.com
Private Labeld Canned Tomato Paste Factory

About our products:
The raw tomatoes are good sources of Dietary Fiber, Vitamin K, Riboflavin, Niacin, Vitamin B6, Iron, Magnesium and Manganese. They are also rich in Vitamin A, Vitamin C, Vitamin E as well, which makes it a healthy addition to recipes. The amount of the saturated fat and cholesterol is very low. Tomato is potential to prevent prostate cancer and good for your skin and hair as well. Our 28-30% brix concentrated canned tomato paste in can has unique sweet and sour taste which can be used for a variety of food tasty fillings, such as bread, pizza, burgers, soup, etc. Our organic 28-30% brix canned tomato paste in can is able to give a special flavor to pasta sauce, pizza sauce, stews and soups.
Advantage of our produces:
1.Easy open or normal lid can be chosen.
2.Our raw materials of our high quality 28-30% brix canned tomato paste are selected 100% fresh ripe and the natural pollution-free tomatoes
3.We can design tomato paste to meet customers' unique style requirement on specifications like brix,bost wick,color and so on.
4.The raw materials of our products grow in well-chosen tomato fields, thus avoiding the risks of contamination
of potential polluted areas
5.Our mature tomatoes are washed, pulped, heat treated and peeled in accordance with good commercial
practices and HACCP standard
6.Our natural 28-30% brix canned tomato paste is without any additives preservative
Truston Strength:
1.Our company has 18 years canned vegetables,canned fruits and exporting experienceand and we have won
good reputation among this industry because of our honesty and integrity
2.We always look for ways to have win-win strategy with our customers so we can build long term of good business relationship.
3.Special sizes, label and brand all can be made according to customers' specific requirements and we regular inspect the whole manufacture process.
Certificati: IFS/BRC/ISO/HACCP/KOSHER/ETC
Do you want a reliable cooperative partner? Do you want products in low price and processing-utmost quality?
Just Contact us!