New crop canned green bean in brine
GENERALINFORMATION
Also known as stringbeans or snap beans, this bright green crunchy vegetable is in season and at its freshest in summer but is available frozen year-round. A colorful addition to any dinner plate, green beans are not just pretty -- they pack a powerful nutrition punch. Green beans are about 4 inches in length, emerald green in color and slightly pointed at the end. Fresh green beans have a satisfying crunch when raw. They are in the same family as shell beans, such as pinto, black and kidney beans, but unlike those beans, you can eat an entire green bean, including the pod and seed. Enjoy our canned green bean in brine in jar 370ml and you will love it.
QUICK DETAILS
Style: Canned, Preserved
Product type: Green Beans
Type: Green beans
Shape: Whole or cut
Preservation Process: Water, Seasoned
Shelf life: Production date + 3 years
Cultivation type: Common
Brand Name: Truston or OEM
Place of Origin: China (Mainland)
Certification: IFS, BRC, ISO, HACCP, KOSHER, ETC
Price Terms: FOB,CNF,CIF
MOQ: Any quantity (if can be mix loading with other products) Or one FCL
Packaging Detail: Can or as per the clients' requirements
ORGANOLEPTIC CHARACTERISTICS
Aspect: The bean pod is in yellow green. It is with clear liquid.
Consistency/Texture:: The canned green beans' texture is tender. The thickness of the green bean is in uniform. They are smooth to the taste.
Taste/flavor: Characteristic flavor and taste of green beans.,
PHYSICAL AND CHEMICAL CHARACTERISTICS
The solid content≥46%
The NaCL≤1.5%
MICROBIOLOGICALTEST
The test should comply with commercial sterilization requirement of preserved food.
HEAVY METALTEST
Pb≤0.2mg/kg
Cd≤0.1mg/kg
Hg≤0.01mg/kg
As≤0.5mg/kg
Cr≤0.5mg/kg
STABILITY/ INCUBATION TEST
Stability: Three samples must be analyzed:
Sample 1: 37℃for 10 days
Sample 2: 55℃for 7 days
Sample 3: control
The difference in PH is less than 0.3.
LEGAL INFORMATION
The product can be made according to EU legislations.
Origin: China
LOGISTCS INFORMATION
Packaging: in corrugated closed carton
SPECIFICATIONS: Chinese canned green bean (Apr-May, Oct-Nov)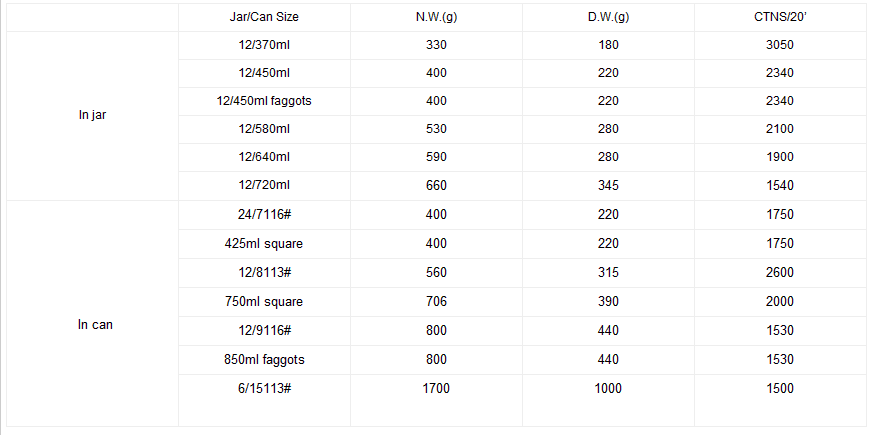 TRUSTON STRENGTH
TRUSTON-20 years focusing on production & supply of canned, frozen, fresh, FD, vegetable & fruits, accessories, noodles. YOUR BEST SUPPLIER ONAGRO FOODS
OTHER INFORMATION
1)Clean sorted from very fresh raw materials without residue, damaged or rotten ones;
2)Processed in the experienced factories;
3)Supervised by our QC team;
4)Our products such as canned green bean in brine in jar 450ml have enjoyed good reputation among the clients from Europe, Japan, Southeast Asia, South Korea, Middle east, USA and Canada.
We also supply canned lychee, corn kernel, seafood, or as per the clients' requirement . For more information, please visit our shop: www.trustonfood.com
Canned stringless green bean in tin 425ml

Certificati: IFS/BRC/ISO/HACCP/KOSHER/ETC