IQF frozen spring roll
QUICK DETAILS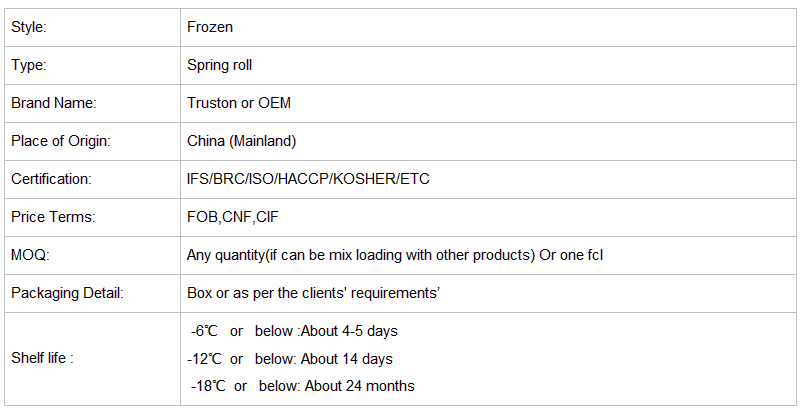 GENERAL INFORMATION
Brimming with all kinds of flavors, such as vegetables, shrimps, tofu and etc, the frozen spring rolls such as Frozen vegetable spring roll could be a nice appetizer or party food. They are hand made in sterile workshop, which are healthy and fresh based on good preservation. The stuffing can be adjusted to what you like and to your recipe. We are manufacturer and provide OEM products.
INGREDIENT:
Wheat flour, potato starch, se same oil, sugar, salt, pepper powder, ginger, garlic
Fillings: Cabbage, carrot, tofu peel, mushroom, green peas, vermicelli, potatoes, onion, etc.
ORGANOLEPTIC CHARACTERISTICS
Taste/flavor: Salty, Spicy and Sweet
Color: Uniform white or yellow color
Appearance: spring roll with uniform shape, the pastry of spring roll's thickness is uniform and the pastry is with no cracks.
PHYSICAL ANDCHEMICAL CHARACTERISTICS
Meat fillings: water/(g/100g)≤65 protein≥2.5
Vegetable fillings: water/(g/100g): ≤70
NUTRITIONAL VALUESPER 100G
Energy: 650kJ(155kcal)
Protein: 3.4g
Carbohydrates: 18.3g
Fat: 7.6g
MICROBIOLOGICALTEST
Total number of bacteria: <100000cfu/g
Coli group:<100cfu/g
Escherichia coli: <10cfu/g
Staphylococcus aureus: < 10cfu/g
Listeria monocytogenes: must not be found/ 25g
Salmonella: must not be found/ 25g
LEGAL INFORMATION
The product can be made according to EU legislations.
Origin: China
LOGISTICS INFORMATION
Packaging: in corrugated closed carton
SPECIFICATIONS : Frozen spring roll from china(all year round)
In box and carton:
1. 15g * 60 pcs/box * 10 boxes/ ctn, 2250ctns per 40RH
2. 25g * 40 pcs/box * 10 boxes/ctn, 2000ctns per 40RH
3. 50g * 20 pcs/box * 10 boxes/ctn, 2000ctns per 40RH
TRUSTON STRENGTH
TRUSTON-20years focusing on production & supply of canned, frozen, fresh, FD, vegetable & fruits, accessories, noodles. YOUR BEST SUPPLIER ON AGRO FOODS
OTHER INFORMATION
1) Clean sorted from very fresh raw materials without residue, damaged or rotten ones;
2) Processed in the experienced factories;
3) Supervised by our QC team;
4) Our products such as frozen vegetarian spring roll have enjoyed good reputation among the clients from Europe, Japan, Southeast Asia, South Korea, Middle east, USA and Canada.
We also supply canned lychee, corn kernel, seafood, or as per the clients' requirement. For more information, please visit our shop: www.trustonfood.com


Frozen Crispy Spring Rolls