Instant noodle in bag in various sizes
GENERAL INFORMATION
The instant noodles are usually precooked. They are often dried noodle block, block, sold with oil or/and flavoring powder. The main ingredients which are used in the dried noodles are palm oil, wheat flour and salt. Some people also like to eat the instant noodle without even cooking it. Our instant noodles are both a wonderful product and outstanding value. The instant noodles are easy to make. You can make them for a quick lunch. We are able to offer a variety of flavors for you to choose. Instant noodle in bag in 85g is one of our hot selling products.
QUICK DETAILS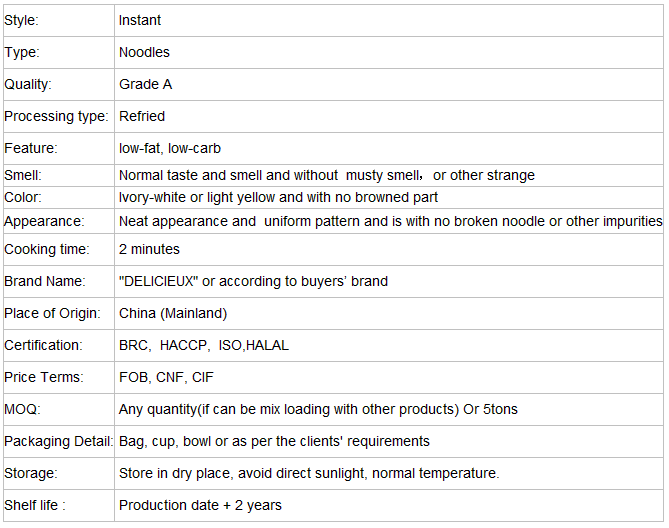 ORGANOLEPTICCHARACTERISTICS
Taste/flavor: Chicken/ beef/vegetable/curry/ tom yum/ shrimps/ sea food/ kimchi/ yakisoba/ miso / choyu/tomato and basil/tomato and garlic/ sweet & sour/ oriental soy etc.
MANUFACTURINGPROCESS
Stored in the repository for raw materials→ Requisitioned for material→ Measurement for mixtured material →Packing powder sachets and vegetable sachets quantitatively→ Knead the dough(20min)→Press the dough into slices→ Cut into shreds→ Steam the shreds(150s)→ Cut off quantitatively Distribute in line→ Fry the noodle cake in oil(110s,110C°-160C°) →Cooling(2min)→Inner packaging→ Outer packaging→ detection for metal→ Put qualified products into finished stock storehouse
MICROBIOLOGICALTEST
Total numbers of colony ≤ 100000/g
Coli group: <100/g
The test should comply with commercial sterilization requirement of preserved food.
NUTRITIONALVALUES PER 100G
Energy: 408kcal
Protein: 10.2g
Sugars: 2.7g
Fat: 18.0 g
Sodium: 1900mg
Saturated Fatty Acid: 8.2g
LEGALINFORMATION
The product can be made according to EU legislations.
The product is GMO – free and is not radiated.
Absence of any allergens.
Origin: China
LOGISTICSINFORMATION
Packaging: in corrugated closed carton, each contains 12 cups or as per customer's requirement
Cartons/ 40'HQ: 6400cartons
Loading: in bulk
SPECIFICATIONS: Instant noodle in various flavors from china (all year round)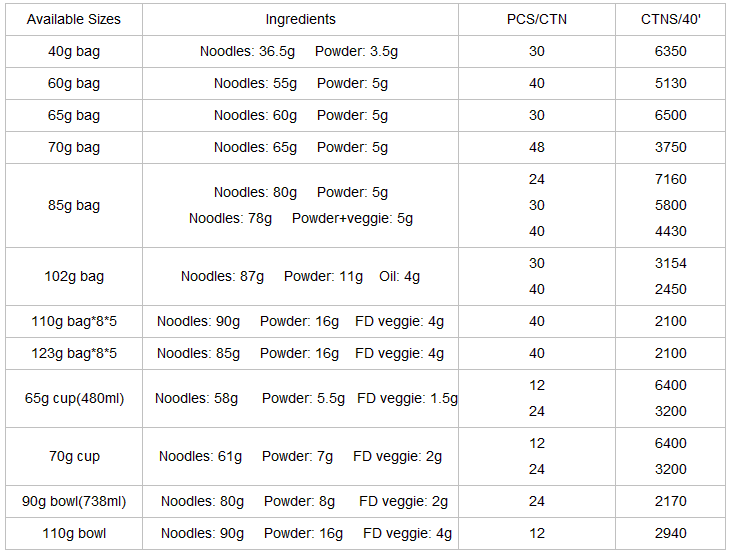 TRUSTON STRENGTH
TRUSTON-20 years focusing on production & supply of canned, frozen, fresh, FD, vegetable& fruits, accessories, noodles. YOUR BEST SUPPLIER ONAGRO FOODS
OTHERINFORMATION
1.Processed in the experienced factories;
2.Supervised by our QC team;
3.Our products such as Instant noodle in cup 65g have enjoyed good reputation among the clients from Europe, Japan, Southeast Asia, South Korea, Middle east, USAand Canada.
We also supply canned lychee, corn kernel, seafood, or as per the clients' requirement. For more information, please visit our shop:www.trustonfood.com
Instant noodle in bowl 90g