New crop white asparagus in jar 580ml/17cm
The nutritionists and vegetarian experts consider the asparagus as the healthy food and anticancer food. The tender stem of the asparagus has high nutrition and contains different kinds of amino acids and vitamins. Our Canned white asparagus spears 580ml/17cm preserve the simple goodness of the fresh asparagus which is rich in essential amino acid, trace elements and microelements for the human body. Our canned white asparagus is suitable for use by restaurants, professional chefs and you can also enjoy them during travel.
QUICK DETAILS
Style: Canned
Type: Asparagus
Packaging: Can /Jar
Quality: Grade A
Color: White/Green
Part: Whole, Cut
Brand Name: "DELICIEUX" or according to buyers' brand
Place of Origin: China (Mainland)
Certification: FDA, HACCP, IFS, ISO, KOSHER, QS
Price Terms: FOB, CNF, CIF
MOQ: Any quantity(if can be mix loading with other products) Or 10tons
Packaging Detail: Canned, tin and glass jar, or as per the clients' requirements
Storage: Store in cool & dry place, avoid direct sunlight, normal temperature.
Shelf life : Production date + 3 years
GENERAL INFORMATION
The canned asparagus are made of harvested fresh asparagus. After harvesting, the asparagus are selected, cleaned, peeled, blanched, cooled, washed, and inspected visually and weighed, then filled into jars manually. After adding brine soup and sealing, tins are sterilized at 250°F/121°C.
ORGANOLEPTIC CHARACTERISTICS
Aspect: asparagus with white color, covered with clear liquid.
Consistency/Texture: natural and moderate
Taste/flavor: characteristic and rich flavor of canned made of fresh asparagus.
PHYSICAL AND CHEMICAL CHARACTERISTICS
Salt : 1%±0.1
Vacuum :≥30 cm Hg
PH : 5.0 -5.6
Brix : 2.5-4
NUTRITIONAL VALUES PER 100G
Energy: 51 KJ/12kcal
Carbohydrates: 2.3 g
Fat: 0.0 g
Dietary fibers: 0.5 g
of which sugars: 2.3 g
Protein: 0.71 g
Sodium: 0.29 g
STABILITY/ INCUBATIONTEST
Stability: Three samples must be analyzed:
Sample 1: 37℃ for10 days
Sample 2: 55℃ for7 days
Sample 3: control
The difference in PH is less than 0.3.
LEGAL INFORMATION
The product can be made according to EU legislations.
The product is GMO - free and is not radiated.
Absence of any allergens.
Origin: China
MICROBIOLOGICAL TEST
The test should comply with commercial sterilization requirement of preserved food.
LOGISTICS INFORMATION
Packaging: in corrugated closed carton, each contains 12jars
Cartons/ 20'FCL: 2000 cartons
Loading: in bulk
SPECIFICATIONS : Canned white asparagus (spears, tip, tips & cuts)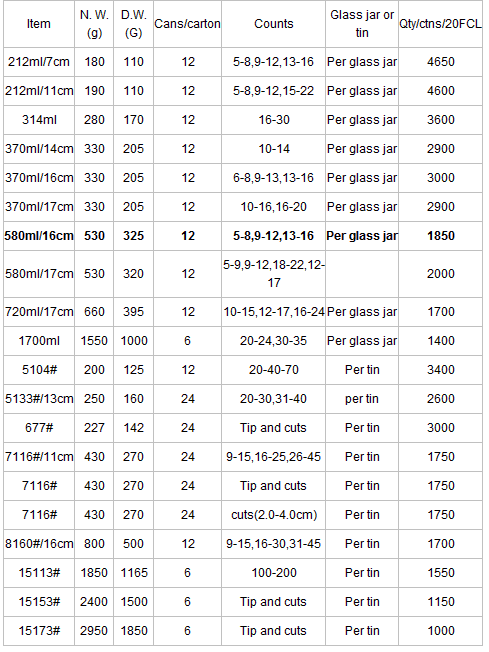 TRUSTON STRENGTH
TRUSTON-20 years focusing on production & supply of canned, frozen, fresh, FD, vegetable &fruits, accessories, noodles. YOUR BEST SUPPLIER ON AGRO FOODS
OTHER INFORMATION
1. Clean sorted from very fresh raw materials without residue, damaged or rotten ones;
2. Processed in the experienced factories;
3. Supervised by our QC team;
4. Our products such as White asparagus in bottle 580ml/17cm have enjoyed good reputation among the clients from Southeast Asia, Japan ,South Korea, Middle east, Europe, USA and Canada.
We also supply canned lychee, corn kernel, seafood, or as per the clients' requirement. For more information, please visit our shop:www.trustonfood.com