Canned mushroom for supermarket
GENERAL INFORMATION
The name "mushroom" often means the cultivated white button mushroom. The mushroom has a stem, a cap and gills. Our canned mushroom is non-GMO and is free of additives or preservatives. The mushrooms are nutritious and high in protein and minerals. They are able to add a wonderful flavor to dishes. The mushrooms are also good for our heart health and weight management. The canned mushroom can be also great with over toast, pasta sauce and with cream.
QUICK DETAILS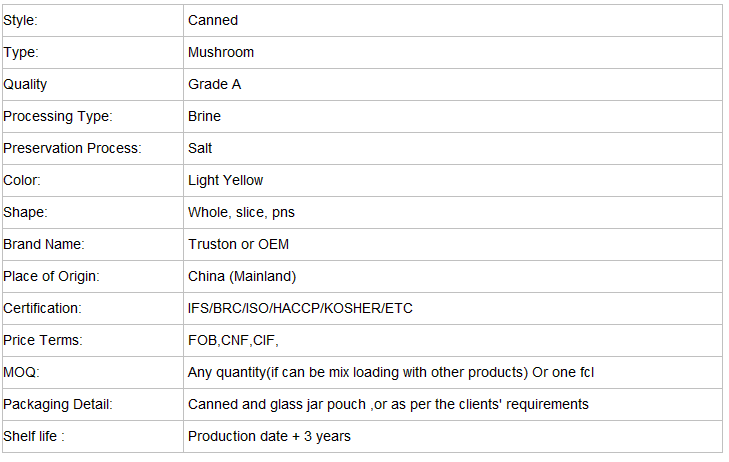 ORGANOLEPTICCHARACTERISTICS
Taste/flavor: Mushroom taste, stretchy, free from foreign flavors.
Texture: Integrity, stretchy
Aspect: Creamy yellow or light yellow mushroom and is not rotten, not discolored no mud root and Impurities and is free of black parts and stains.
PHYSICAL ANDCHEMICAL CHARACTERISTICS
PH : 5.0-5.6(salted mushroom as ingredient) 5.2-6.4(fresh mushroom as ingredient)
Salt as NaCl: 6-1.3%
Refractive index: 2%-3.2%
Vacuum: 15173#≥0.020Mpa, othercans≥0.013Mpa, Jar≥0.030Mpa
HEAVY METAL TEST:
Tin≤200mg/Kg
Cu≤5mg/Kg
Pb:≤1mg/Kg
As≤0.5mg/Kg
DEFECT
UNIFORMITY OFSIZE: Not more than 5%
SICK MUSHROOMBLEMISHES: Not detected
FOREIGN MATTER: Not detected
MICROBIOLOGICAL TEST
The test should comply with commercial sterilization requirement of preserved food.
LEGALINFORMATION
The product can be made according to EU legislations.
Origin: China
LOGISTICSINFORMATION
Packaging: in corrugated closed carton
Cartons/ 20'FCL: You can see at the following part (SPECIFICATIONS)
SPECIFICATIONS: Canned Chinese Mushroom (Production Season: Oct-Mar)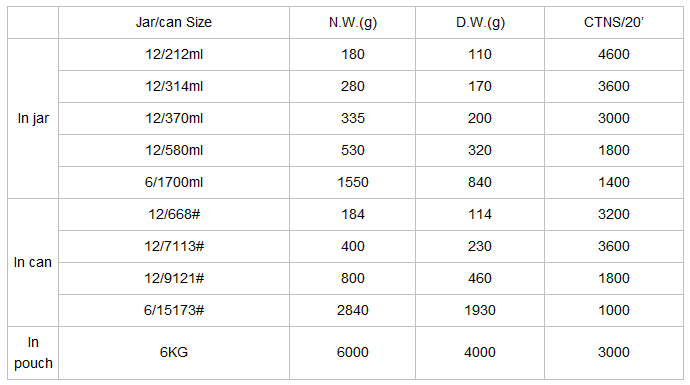 TRUSTON STRENGTH
TRUSTON-20 years focusing on production & supply of canned, frozen, fresh, FD, vegetable & fruits, accessories, noodles. YOUR BEST SUPPLIER ON AGRO FOODS
OTHER INFORMATION
1) Clean sorted from very fresh raw materials without residue, damaged or rotten ones;
2) Processed in the experienced factories;
3) Supervised by our QC team;
4)Our products like canned mushroom slices have enjoyed good reputation among the clients from Europe, Japan, Southeast Asia, South Korea, Middle east, USA and Canada.
We also supply canned lychee, corn kernel, seafood, or as per the clients' requirement. For more information, please visit our shop: www.trustonfood.com