Canned mushroom in China
GENERAL INFORMATION
--AKA agaricus bisporus. Champignon -- also known as white button -- mushrooms have a mild taste that easily blends with other flavors. Both raw and cooked white button mushrooms contain a significant measure of minerals and trace elements. Champignons such as our canned whole mushroom are a favorite addition in salads, casseroles, meats, gravies, sauces and stews. To maintain freshness, wrap mushrooms in a damp paper towel and store them in a brown paper sack until use.
QUICK DETAILS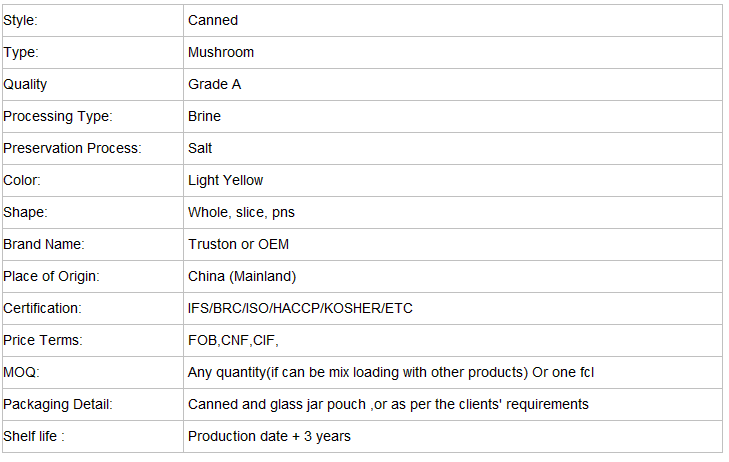 ORGANOLEPTIC CHARACTERISTICS
Taste/flavor: Mushroom taste, stretchy, free from foreign flavors.
Texture: Integrity, stretchy
Aspect: Creamy yellow or light yellow mushroom and is not rotten, not discolored, no mud root and no Impurities. It is also free of black parts and stains.
PHYSICAL AND CHEMICAL CHARACTERISTICS
PH:5.0-5.6(salted mushroom as ingredient) 5.2-6.4(fresh mushroom as ingredient)
Salt as NaCl:6-1.3%
Refractive index: 2%-3.2%
Vacuum: 15173#≥0.020Mpa other cans≥0.013Mpa Jar≥0.030Mpa
HEAVY METAL TEST:
Tin≤200mg/Kg
Cu≤5mg/Kg
Pb:≤1mg/Kg
As≤0.5mg/Kg
DEFECT
Uniformity of size: Not more than 5%
Sick mushroom blemishes:Not detected
Foreign matter:Not detected
MICROBIOLOGICAL TEST
The test should comply with commercial sterilization
requirement of preserved food.
LEGAL INFORMATION
The product can be made according to EU legislations.
Origin: China
LOGISTICS INFORMATION
Packaging: in corrugated closed carton
Cartons/ 20'FCL: You can see at the following part (SPECIFICATIONS)
SPECIFICATIONS: High quality canned mushroom (Production Season: Oct-Mar)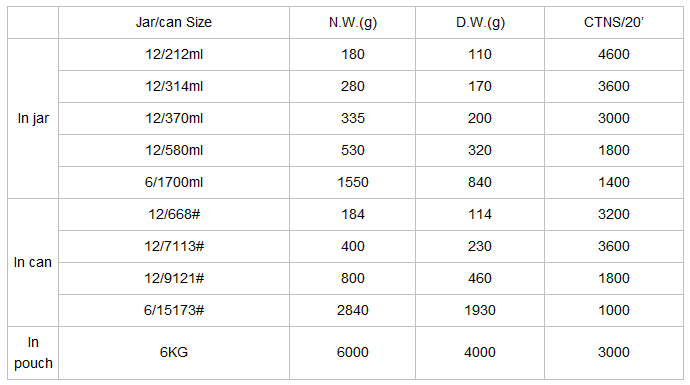 TRUSTON STRENGTH
TRUSTON-20 years focusing on production & supply of canned, frozen, fresh, FD, vegetable & fruits, accessories, noodles. YOUR BEST SUPPLIER ON AGRO FOODS
OTHER INFORMATION
1) Clean sorted from very fresh raw materials without residue, damaged or rotten ones;
2) Processed in the experienced factories;
3) Supervised by our QC team;
4)Our products like canned sliced mushroom have enjoyed good reputation among the clients from Europe, Japan, Southeast Asia, South Korea, Middle east, USA and Canada.
We also supply canned whole french green beans, canned lychee, corn kernel, seafood, or as per the clients' requirement. For more information, please visit our shop: www.trustonfood.com
Canned Mushroom In China

Certificati: IFS/BRC/ISO/HACCP/KOSHER/ETC