New Crop Frozen Blackberry from China
GENERAL INFORMATION
Blackberries are delicious and nutrient dense fruit which stores a fine range of nourishing components. The edible fruits are also famous around the world. The blackberry is a multipurpose plant with usages varying from food to major medicinal benefits. The blackberry's healthy benefits are including strengthened immune defense, better digestive health, and prevention of cancer, healthy functioning and relief from endothelial dysfunction. Our frozen whole cultivated blackberry in 6-12mm can be added to baked goods such as tarts, cakes and pie or fresh fruit salads. You can also eat it directly.
QUICK DETAILS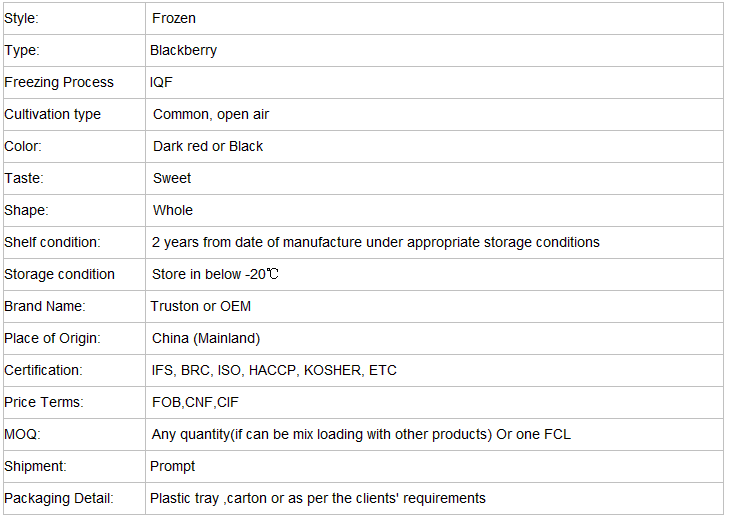 DEFECTS per 10kg
Immature fruits(green or reddish): ≤10
Broken (crush the fruit or break by pressing): ≤1%
Rot or mould: ≤5
Stem or leaf: ≤10
Foreign matter: Not detected
ORGANOLEPTIC CHARACTERISTICS
Color: Dark red or black color, in uniform color
Texture: Typical cultivar characters, correspond to fresh material
Taste/flavor: Characteristic flavor of ripe blackberry and without odour
Freeze: They are freeze well, frost, free of ice glazing, adhesion
MICROBIOLOGICAL TEST
Total number of bacteria: <1000/g
Coli group: < 3/g
Colibacillus: < 3/g
Yeast: < 1000/g
Mycete: <1000/g
Salmonella: Negative/25g
Staphylococcus: < 10g
Listeria monocytogenes: Negative/25g
LEGAL INFORMATION
The product can be made according to EU legislations.
Origin: China
LOGISTICS INFORMATION
Packaging: in corrugated closed carton and were stored in below -20℃
SPECIFICATIONS: Frozen Soft Blackberry in 6-12mm (Season: Jul-Aug)

TRUSTON STRENGTH
TRUSTON-20 years focusing on production & supply of canned, frozen, fresh, FD, vegetable & fruits, accessories, noodles. YOUR BEST SUPPLIER ON AGRO FOODS
OTHER INFORMATION
1)Clean sorted from very fresh raw materials without residue, damaged or rotten ones;
2)Processed in the experienced factories;
3)Supervised by our QC team;
4)Our products such as 100%natural Frozen Wild Blackberry in 6-12mmhave enjoyed good reputation among the clients from Europe, Japan, Southeast Asia, South Korea, Middle east, USA and Canada.
We also supply canned lychee, corn kernel, seafood, or as per the clients' requirement. For more information, please visit our shop: www.trustonfood.com
IQF wild Blackberry distributor