Frozen dried pineapple for import
GENERAL INFORMATION
The freeze-dried pineapples are coming in the form of pure pineapple chunks or pieces which have been dehydrated to one seventh of their original weight. The freeze-dried pineapples(also called FD pineapplea) are with no sugar or additives. The frozen dried pineapple is an excellent source of enzymes, antioxidants and vitamins. And our freeze dried pineapple is a nutritious snack. Our frozen dried pineapple goes great in smoothies, pizza toppings or fruit salads. Just enjoy our delicious and healthy freeze dried pineapple such as frozen dried pineapple slices in 3-5mm.
QUICK DETAILS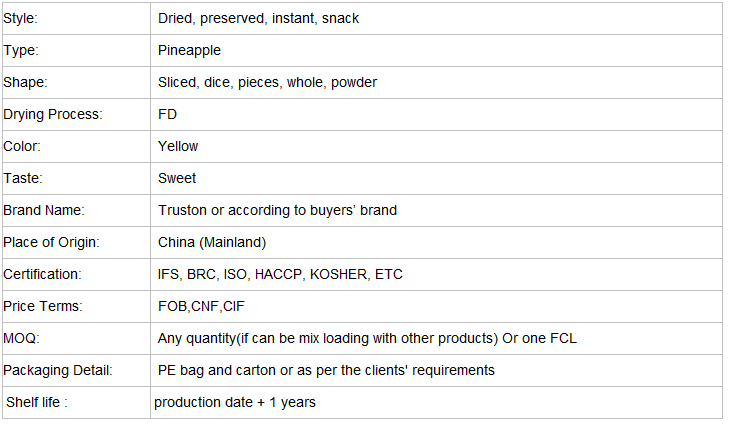 ORGANOLEPTIC CHARACTERISTICS
Taste/flavor: Sweet
Color: Yellow
Appearance: In uniform thickness and size and free of foreign substance which can be seen.
PHYSICAL AND CHEMICAL CHARACTERISTICS
Moisture: ≤10.0
Total acid (g/100g): ≤6.0
As (mg/kg): ≤0.5
Pb (mg/kg): ≤0.2
Cd (mg/kg): ≤0.05
Hg (mg/kg): ≤0.02
Hexachlorocyclohexane(mg/kg): ≤0.05
DDT(mg/kg): ≤0.05
MICROBIOLOGICAL TEST
Total numbers of colony(CFU/g): ≤1000
Coli group (MPN/100g): ≤30
Pathogenic bacterium(Salmonella, shigella, staphylococcus aureus): Not detected
NUTRITIONAL VALUES PER 100.0g
Energy: 410.0kcal
Carbohydrate: 108g
Protein: 5.00g
Fat (g): 0.00g
Fiber (g): 13.00g
LEGAL INFORMATION
The product can be made according to EU legislations.
Origin: China
LOGISTICS INFORMATION
Packaging: in corrugated closed carton
SPECIFICATIONS : Crispy Chinese Frozen dried pineapple(all year round)
Packing: PE bag+ carton
Shape: Slice: 3-5mm,5-7mm
Dice: 5*5*5mm, 6*6*6mm. 8*8*8mm,10*10*10mm, 12*12*12mm, 15*15*15mm
Pieces: 1-3mm, 3-5mm,1-5mm
Whole: 15-25mm, 20-32mm
Powder:40-120mesh or as per customer's requests
TRUSTON STRENGTH
TRUSTON-20 years focusing on production & supply of canned, frozen, fresh, FD, vegetable & fruits, accessories, noodles. YOUR BEST SUPPLIER ON AGRO FOODS
OTHER INFORMATION
1) Clean sorted from very fresh raw materials without residue, damaged or rotten ones;
2) Processed in the experienced factories;
3) Supervised by our QC team;
4)Our products such as Frozen dried pineapple dices in 5*5*5mm have enjoyed good reputation among the clients from Europe, Japan, Southeast Asia, South Korea, Middle east, USA and Canada.
We also supply canned lychee, corn kernel, seafood, or as per the clients'requirement. For more information, please visit our shop: www.trustonfood.com
Frozen dried pineapple chunk